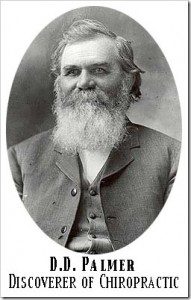 Here is a photograph of the discoverer of chiropractic, Dr. DD Palmer, of Davenport, Iowa demonstrating spinal adjusting. Dr. Palmer (called "DD") accidentally discovered chiropractic when he restored the hearing of a man who had been deaf for 17 years.
DD originally thought he had discovered a cure for deafness, but after patients with heart problems, asthma, menstrual cramps, infertility, headaches, back and neck problems and many other conditions were restored to proper function from Dr. Palmer's "hand treatments" (as he first called them), he realized he had discovered something more far reaching.
Be sure to click here and download our full newsletter to read the rest of Dr. Palmer's story, and much more!


For Your Health,

Dr. Scott Van Dam